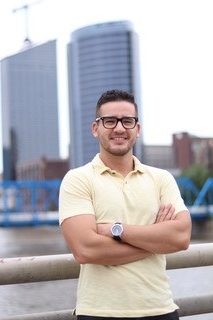 Meet Doug Booth
Tell us a little about your professional background
I have always worked to improve the organizations that I was a part of. While attending grad school at the University of Denver, I held multiple positions. I worked with international students in the Student Financial Services department where I assisted in the reworking of their orientation to the school, and Denver. I also worked as a department manager for the Political Science, Gender & Women's Studies, and the Socio-legal studies departments. I like to say that my job was everything that doesn't involve teaching. Budgets, schedules, faculty grant administration, student workers, etc. The list can go on forever.
On top of this, I was also working in a consultant role for the LGBT Center as a health educator. Within this function, I assisted in the development of a training program for physicians and medical practices to be more inclusive and equitable with how they treat their patients, specifically LGBTQIA+ patients. My thesis work was looking at LGB access and utilization of primary care services in the Denver region, so I saw many of the barriers to care that many in the LGBTQIA community face. We would evaluate their practice, then propose changes and provide training to ensure that all patients have equity in the health system. This program is still in effect today.
After returning to Grand Rapids, I worked as an operations manager for a small medical practice. I helped to create the administrative framework that all practices need and was still missing. Within this practice, we worked closely with many of the assisted living facilities around West Michigan. The physician would travel to each of the homes once per week to treat patients where they live. Knowing that transportation is a large barrier to care for the geriatric population, I was excited about this model of care and the potential that it presents.
What lead you to choose to join the Health Net of West Michigan team?
I met Maureen at an Equity PAC event last spring. We began speaking about the social determinants of health and the work that Health Net does, so I started researching the organization that night. My passion in creating systemic change pairs well with the work that we do at Health Net. After coming to the office and learning more about the programs and seeing the amazing culture within the organization I knew that I wanted to work here.
What are you most excited about in this role?
There is so much potential for growth with Health Net! The growth that has taken place over the last five years demonstrates the need for the type of work we do. As the population expands and ages, the needs on the health care system will be stretched to their limits, more so than what it is today. There is going to be an increased focus on the social aspect of healthcare and the impact that has on health outcomes. We are ahead of the game and I see what we do as helping people recognize those social factors that will impact their health BEFORE it becomes a medical emergency. Ultimately, we are helping to save time, money, and create a better West Michigan for all.
What drives you to the health field/ your interest in this field?
I have always been interested in policy work and the ways that things work behind the scenes. After taking a few courses in public policy, I found my niche within the health field. Health care is a field that is constantly growing and will always be around requiring innovative solutions to some of the toughest challenges we, as a society are facing. The research I did while in school focused on the broader issue of access and utilization of primary care services. Within my research, I found so many disparities that wouldn't necessarily be seen as health care related. The search for solutions that create systemic change quickly became a passion of mine and one that I foresee lasting my entire lifetime.
What have you learned from past experiences that you would like to bring to HNWM?
Everyone has a story. It is our responsibility to hear them and learn from them.
What is your favorite thing about Grand Rapids?
I grew up here in Grand Rapids and the city has changed so much since my youth. I love that Grand Rapids has such vibrant, active communities! There are always things to do and I have yet to attend an event or festival and NOT learn something new. If you're bored in Grand Rapids, you're not trying hard enough ?
What are your favorite things to do outside of work?
I volunteer a lot around the community with programs, organizations, and various campaigns. It's not uncommon for me to spend a Saturday morning knocking doors and advocating for the issues I care most about. I am also a member of the board of directors on the Grand Rapids Red Project. Bringing more awareness and advocacy to harm reduction is important to me, as well as to the ongoing opioid crisis in this nation!
I really enjoy attending the various events around Grand Rapids and West Michigan. As a member of the West Michigan Latino Network, I help to raise the voices of the Latinx community in Grand Rapids! Most of my family lives in the area as well and we are very tight knit, so a week rarely goes by without me hanging out with them.
*Photo Credit: Josh VanSluyters
https://healthnetwm.org/wp-content/uploads/2018/08/hnwm-logo-svg.svg
0
0
Sarah Wilson
https://healthnetwm.org/wp-content/uploads/2018/08/hnwm-logo-svg.svg
Sarah Wilson
2019-10-01 14:07:25
2019-10-01 14:13:32
Welcome Doug Booth